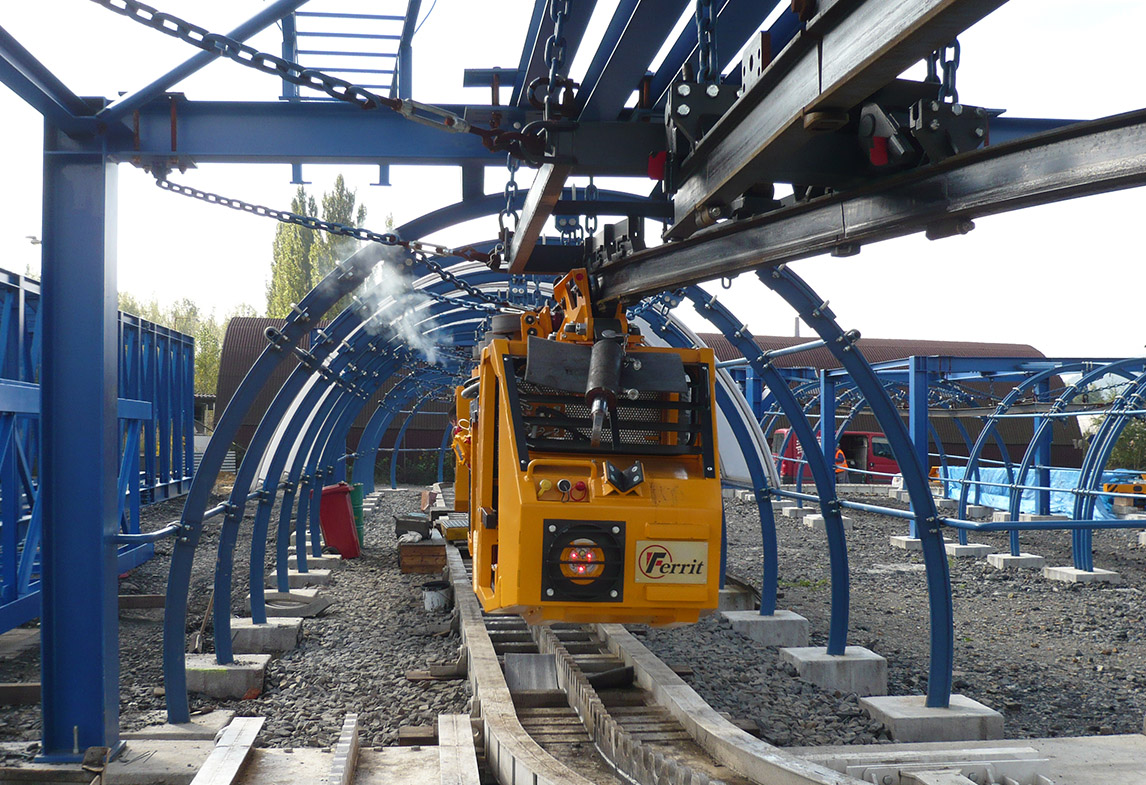 Testing polygon for mine transport units  
Ferrit s.r.o.
Year of implementation: 2010 – 2011
Financial volume: 1.786 ths. EUR
PURPOSE
The newly designed test equipment for mine transport propulsion units is used for testing and adjusting suspended and ground locomotives.
There are tested all manufactured traction units in the polygon. The following activities are performed within the testing polygon:
Complete assembly and adjustment in the test hall.
Testing and adjustment on the test track.
Testing and adjustment on a tilting bridge.
The locomotives are tested after the complete assembly. Their functionality in curves with minimal curvature, the ability to drive in a plane and with ascent and descent at an inclination of ± 35 ° is tested. During the tests, the machines are adjusted. Tests of suspended and ground rack-and-pinion locomotives are performed on the test bridge. The test loads (with which the locomotive runs) are determined according to the load diagrams, which are part of the technical conditions of each machine. Emergency brake tests are also performed (either with maximum or recalculated load).
BASIC PARAMETERS
Testing of suspension monorail locomotives, and ground sets with rack-anmd-pinion drive
Maximum weight of the tested set incl. weight 40 t
Test bridge inclination 0° to 35°
The test track contains a straight section, right arc, left arc, switches
SCOPE OF SUPPLY
Elaboration of relevant documentation (Studies, DUR, DSP, DPS, DD, VD, AS BUILT)
Complete turnkey delivery
Engineering and commissioning